News
Lana Trotovšek with complete works by Eduard Napravnik CD release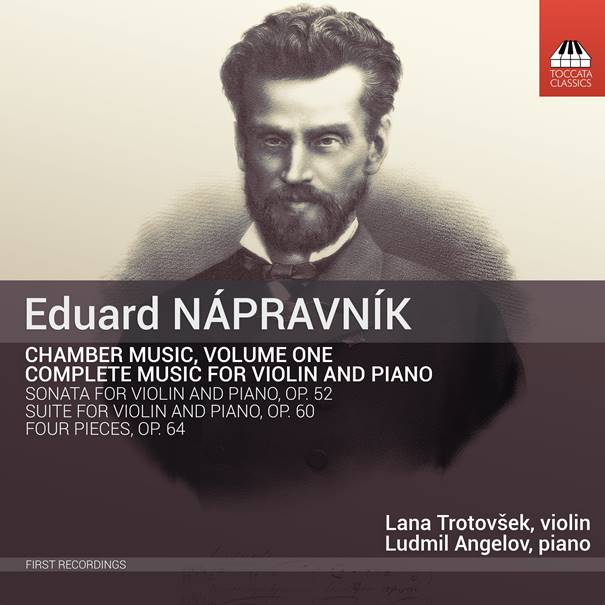 Lana Trotovšek has recorded works for violin and piano by Russian-Czech composer Eduard Napravnik with pianist Ludmil Angelov. These are the first recordings of the composers music for violin and piano. The CD has been published under Toccata Classics and is now available to purchase .
The CD has received five stars in the review by Jerry Dubins, Fanfare Magazine.
"This is an extraordinary, and indeed an exceptional, release, one that is headed straight for my 2020 Want List. Five stars: These pieces, as played by Trotovšek and Angelov, need to be heard by everyone"  by Jerry Dubins
Five stars: These pieces, as played by Trotovšek and Angelov, need to be heard by everyone
The review can be read below:
È NÁPRAVNÍK Violin Sonata in G, op. 52. Suite for Violin and Piano, op. 60. Four Pieces for Violin and Piano, op. 64 — Lana Trotovšek (vn); Ludmil Angelov (pn) — TOCCATA 0305 (86:28) Reviewed from a WAV download: 44.1 kHz/16-bit
Apropos of nothing in particular related to the works or performances on this disc, let me just say that at 86:28, this may be the longest playing time I've yet to encounter on a standard CD.
Czech-Russian composer Eduard Nápravník (1839–1916) should not be a stranger to Fanfare's readers. A number of recordings of his music have been reviewed here, including one by me in 41:3, which included a couple of his piano trios performed by the Spyros Trio on an MDG SACD. Also, collectors who diligently followed Hyperion's "Romantic Piano Concerto" series, would have encountered Nápravník's Piano Concerto in A Minor on Volume 37 of that survey. That said, the violin and piano works on this Toccata release are first recordings.
Prepare for one of those rare musical experiences that transports you to a place where nothing else matters. I've spoken before of the indescribably, breathtakingly beautiful and indelibly memorable openings with which some pieces begin. Not all great works are blessed with such openings—indeed, the opening bars of some great works are surprisingly unremarkable, causing us to marvel at how such mighty oaks from such modest acorns can grow. Conversely, not every work that begins with a drop-dead gorgeous melody fulfills its promise.
Nápravník's violin sonata opens to the strains of a melody almost too beautiful to have been conceived without Divine intervention. If I were ranking such things, I'd say it's at or very near the top of the list of the most beautiful melodies in existence. Once you hear it, you will never forget it. And providentially, this is one of those works that begins with a drop-dead gorgeous melody and goes on to fulfill its promise. How different this is from Nápravník's piano trios previously reviewed, which I found to be less informed by melodic impulses than driven by rhythmic impulsiveness.
Nápravník's output, as noted in the aforementioned review, is not large. Apparently, his duties as principal conductor of the Imperial Mariinsky Theater Orchestra in St. Petersburg, a position he held for several decades, kept him too busy to devote as much time as he might have liked to composing. But he did make time enough to produce four or five operas, four symphonies, the aforementioned piano concerto and around 10 chamber works, including three string quartets, and the violin works on this disc. His as yet unrecorded works are in urgent need of recording, for based on what I hear in these violin and piano pieces, Nápravník was far more than a career conductor who fancied himself a composer. We could all name a few of those whose efforts are less than edifying.
Nápravník's Violin Sonata, dated 1890, is a close contemporary of a number of other, more celebrated violin sonatas of the time—Saint-Saëns's D-Minor, Franck's (1886), Strauss's (1887), and Lekeu's (1892), to cite four examples. Nápravník's, in my opinion, belongs right up there with any of them; yet, until this recording of it, it was so forgotten that it doesn't even appear in Wikipedia's purportedly comprehensive list of violin sonatas. I could add it myself, if I wanted to create a Wikipedia account and take the time to figure out the site's editing procedures. Anyone can. Perhaps Martin Anderson, Executive Producer of Toccata Classics, would like to do so.
The Suite for Violin and Piano and the Four Pieces for Violin and Piano are equally attractive, offering the violinist and the listener an ideal balance between heart-easing/heart-throbbing melody and virtuosic display. The Four Pieces strike me as having a good deal in common with Dvořák's Four Romantic Pieces for violin and piano of 1887, only with a Russian accent instead of a Czech one.
Violinist Lana Trotovšek is as new and exciting a discovery for me as are these works by Nápravník. This is not her Fanfare debut; Robert Maxham reviewed a recital disc of hers in 37:3, but this is my first time hearing her. She is sweet of tone, secure of technique, and a weaver of magical spells.
Slovenia-born, London-based Trotovšek was discovered by Ruggiero Ricci, who then mentored her for several months at the Mozarteum in Salzburg. Her studies in London at Trinity College of Music and the Royal College of Music were rounded out with guidance from a number of the violin world's notables—Ivy Gitlis, Ida Haendel, Pierre Amoyal, György Pauk, and Tasmin Little, among them. Trotovšek was also coached by members of the Beaux Arts Trio, cellist Bernard Greenhouse and pianist Menahem Pressler. In this context, it's worth mentioning that Trotovšek occupies the violin chair in the 2006-formed Greenwich Piano Trio, an ensemble with which she has recorded albums of trios by Beethoven, Mendelssohn, and Shostakovich.
Call it a serendipitous coincidence if you like, but in 2012, Trotovšek made her public debut as concerto soloist under Valery Gergiev leading the Mariinsky Theater Orchestra, the very orchestra that played for decades under the baton of the composer of the works on this disc, Eduard Nápravník. Surely, Trotovšek had to be aware of that historical connection when she made this recording.
These being first recordings of Nápravník's Violin Sonata, Suite for Violin and Piano, and Four Pieces for Violin and Piano, there are no comparisons to be made to other performances of them, but given the exquisite beauty of Lana Trotovšek's playing, I'm prepared to say that her performances are unbeatable.
The piano parts to these works are far from mere accompaniment. There is true equality in the writing for the two instruments. This is music for violin and piano, not violin with piano or piano with violin. Bulgaria-born pianist Ludmil Angelov is keenly aware of that, and assures that we are aware of it too in his assertive and authoritative playing. He is no stranger to Fanfare either, or to those who, once again, have followed Hyperion's "Romantic Piano Concerto" series, for Angelov can be heard in Volume 68 of the collection, playing works for piano and orchestra by Moszkowski and Schulz-Evler.
Angelov pursues a very active concert and recital career that has taken him to major venues around the globe, including here in the U.S. in appearances at Lincoln Center. He has earned a reputation as somewhat of a Chopin specialist, having participated in the International Chopin Festival in Warsaw, and having been awarded the Grand Prix du Disque Frédéric Chopin for his recording of the composer's complete rondos and variations.
This is an extraordinary, and indeed an exceptional, release, one that is headed straight for my 2020 Want List. Jerry Dubins
Five stars: These pieces, as played by Trotovšek and Angelov, need to be heard by everyone